FC3 project
a Frequency Counter up to 500MHz
This is a project by FoxDelta Project Team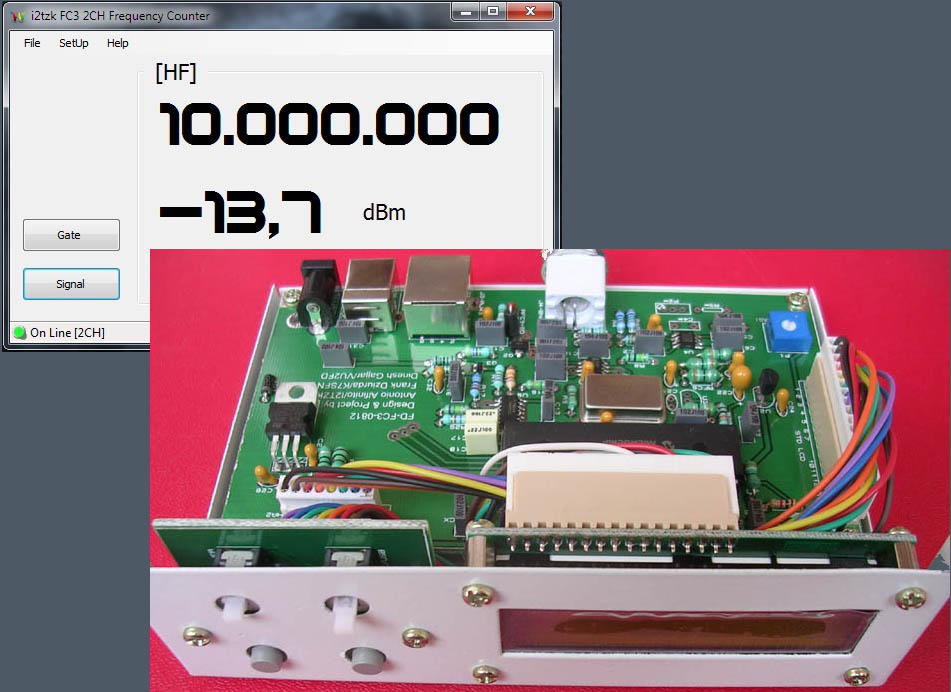 Fc3 is designed and developed for Radio Amateurs looking for economical frequency counter for their hobby work and wish to measure RF signal Level at the same time.
Analog Device's AD8307 is used to measure RF level very accurately in dBm, Vpp, Vpeak or Vrms.
Counter works with PC or as a stand-alone. PC Connection is auto detected and so is stand-alone mode.
Front panel push buttons are provided for RF Meter Mode and HF to VHF Frequency measurement modes.
A PC program Windows based specially designed for FC3 by Tony/I2TZK is provided for configuration of IF Off-sets and AD8307 related parameter configuration thru USB interface.
Program reflects also the LCD panel frequency readout and the two pushbutton.
Complete KIT uses AD8307, ADA4789 and MC12080 in SMT package and are supplied pre-soldered on PCB for those who do not like to solder these tiny devices.
Assembled FC3 may also be available, refer to FoxDelta web site for any detail about FC3 kit.
FC3 Frequency Counter main features are:
·

USB and DC12V Powered

·

Measure RF Level using AD8307

·

Display signal level in dBm, Vpp, Vpeak and Vrms

·

Count frequency up to 500MHZ.

·

HF, VHF and autorange modes.

·

2 x 16 LCD Display with backlight control

·

50 ohms input impedance for both ranges

·

Frequency "off-sets" set by PC program.

·

Calibration and other parameters set by PC program